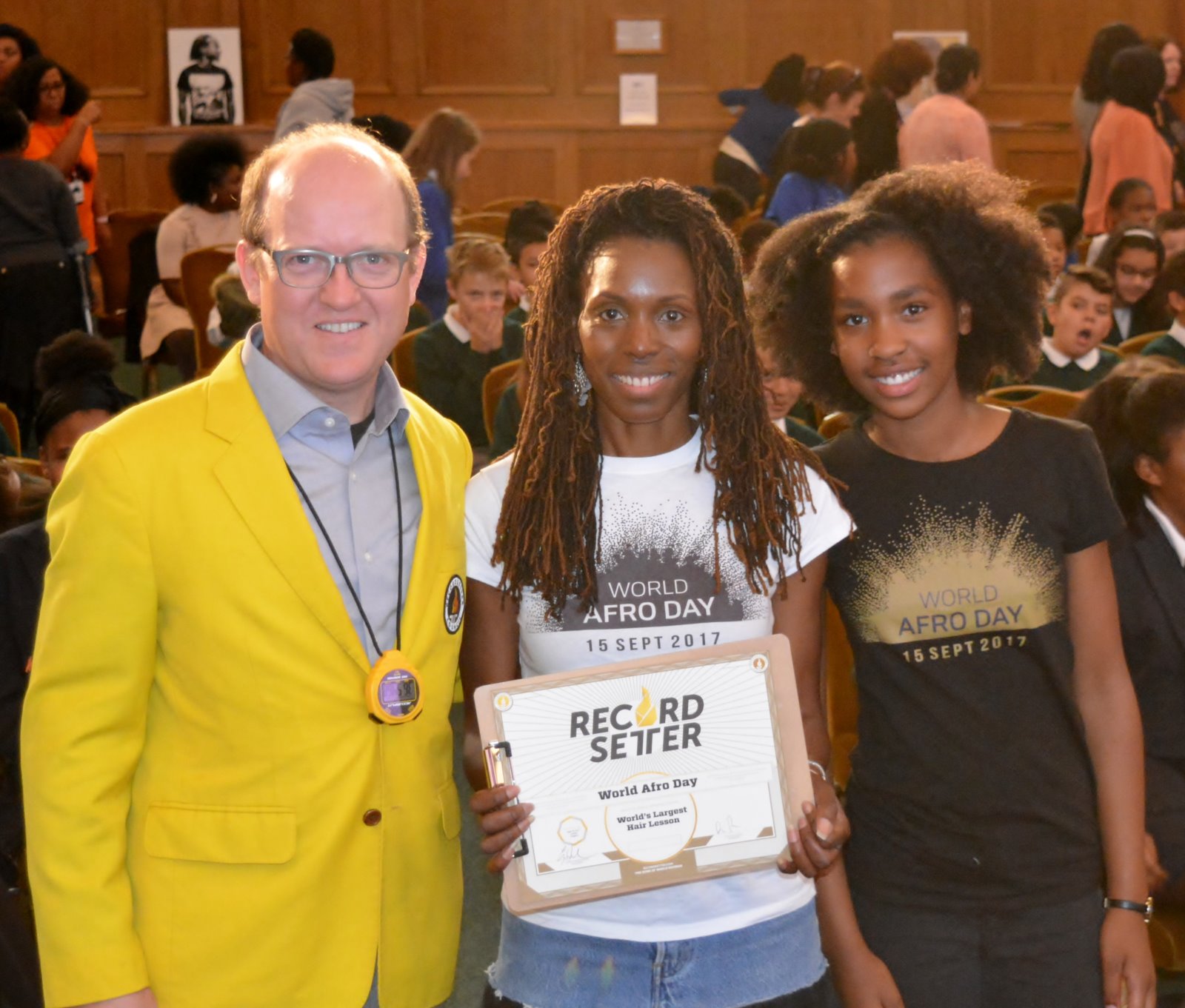 FOR IMMEDIATE RELEASE
On Friday 15 September, the inaugural World Afro Day took place and set a new world record. The team, led by Founder and Director, Michelle De Leon, are now the RecordSetter World Recorder holders for the 'Largest Hair Education Lesson'. 
The event, endorsed by the UN's Office of the High Commissioner for Human Rights, took place in two parts. In the morning, 400 hundred children from schools across London, were taught about the science of their hair by experts including Consultant Dermatologist Dr Susan Wong and were encouraged to celebrate their individual hair textures in a bid to boost their self-esteem. Other guests included internationally-acclaimed hair stylist Vernon François and Miss USA 2016, Deshauna Barber along with American academics Professor Angela Onwuachi-Willig, Professor Trina Jones and Professor Wendy Greene. 
This was followed up by a discussion with an adult audience, where people talked about the impact of wearing afro hairstyles in their professional lives as part of the event's 'Careers & Curls' panel. The entire event was live-streamed across the world on the official World Afro Day Facebook and Twitter channels. 
World Afro Day was featured on BBC Radio, ITV's Good Morning Britain, This Morning and ITV Regional News. It also gained extensive, international support from Yahoo, Now This and Harper's Bazaar. The event ignited social media with thousands of people celebrating their kinky curls by sharing photos of themselves using the hashtags #WorldAfroDay, #NationalAfroDay and #ISupportWorldAfroDay. 
Celebrities such as US singer Jidenna tweeted his support as did Today Show Presenter Sheinelle Jones and cast members of the series Blackish, alongside top beauty brands such as Palmers, SheaMoisture and Carol's Daughter. 
Mum Yolanda Hardy from Chicago, Illinois said "I watched the morning session with the kids. Great job! Kudos to you for having this idea and having it realized! Looking forward to more World Afro Days!" 
Attendee Petula Thomas said "A truly inspirational and empowering perspective on what it means to embrace black identity. As emphasised by the presenters during the day's event, self-acceptance and self-love are central to being the best YOU."
Founder Michelle De Leon said "This is what we had always hoped for, that people would come together in celebration of the wonderful, versatile and creative hair that we have. We're just getting started and can't wait to share the exciting things we have planned for the future."
In the coming months, the World Afro Day team will be releasing a set of learning resources to be used by families and in schools and universities to continue educating people about the value of afro hair and most importantly, change the way it is perceived in society.
—END—
Notes to Editor 
• More information can be found on the World Afro Day website, www.worldafroday.com
• Angela Onwuachi-Willig, Chancellor's Professor of Law, University of California, Berkeley School of Law, Trina Jones, Professor of Law, Duke Law School and Wendy Greene, Professor of Law, University of Iowa College of Law (Visiting) and Cumberland School of Law
• Other brands and public figures supporting World Afro Day include Curlformers, Frizz Free Curls, Hairstylists Andre Walker, Charlotte Mensah and Felicia Leatherwood.
• RecordSetter were present to adjudicate World Afro Day's attempt at RecordSetter World Record "The Largest Hair Lesson". 
• Natural Hair Weekly are the official sponsors for World Afro Day 2017
• World Afro Day was supported by The University of Bradford, the Institute of Trichologists, Twinkl Education, Build Global, Socialize Media, Ajoymedia and the Mayor's Thrive LDN.
For all press enquiries please contact Juanita Rosenior at TGRG Marketing and Communications on 0203 375 6024 or juanita@tgrg.co.uk