An op-ed by TGRG MD Juanita Rosenior
It's Sunday afternoon and I'm watching a news story spread like wildfire amongst Black women in every corner of social media.
This story is this: Influencer, Author and Presenter Candice Brathwaite took to social media earlier this week to share her disappointment that she had missed out on a presenting role. The documentary tackles the shocking statistics surrounding the number of Black women who die before, after and during pregnancy in the United Kingdom for various prejudices that can be found in the NHS, some I can speak to myself during my own pregnancy over a decade ago.
The topic is significant because it's one that Candice has spent a number of years discussing on social media and she has been an active voice for Black mothers. To those who have heard her message in the Black community, her voice is a significant one.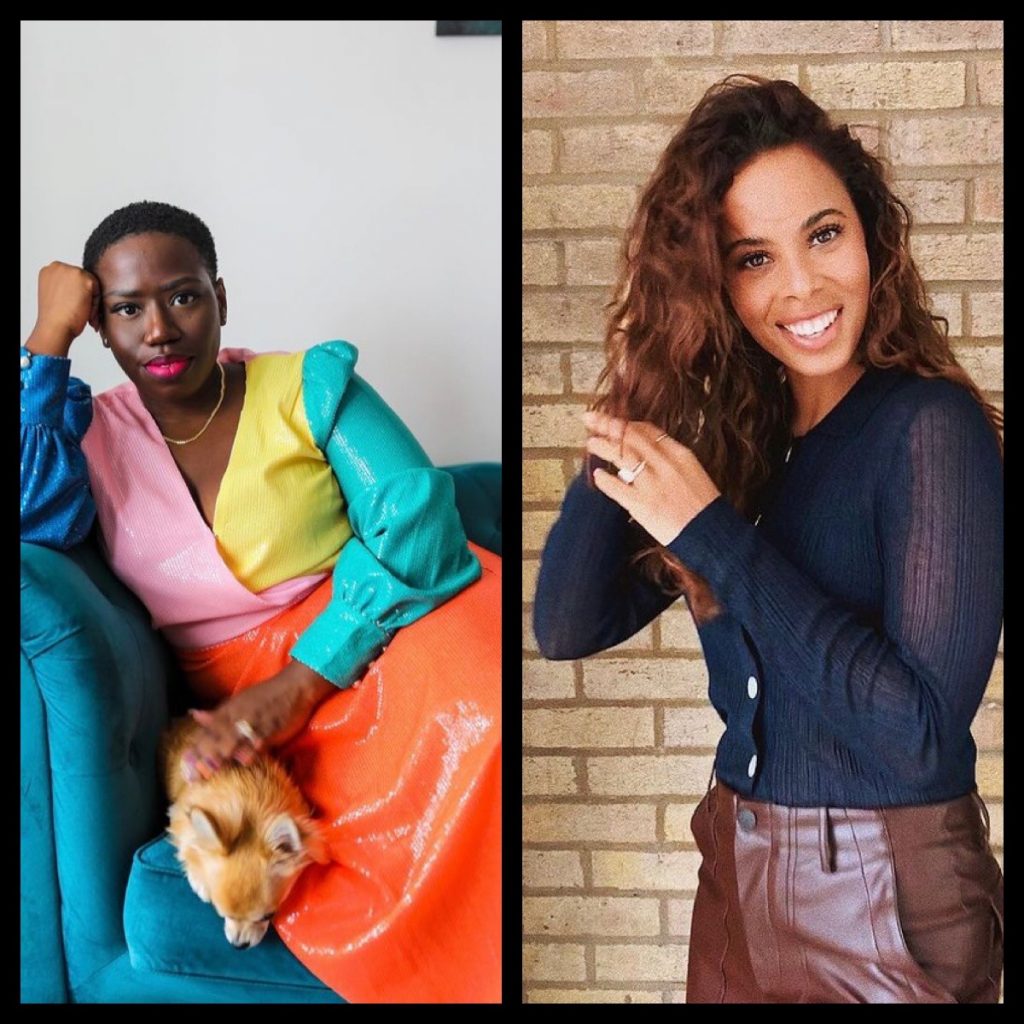 She attributes the fact that she didn't get the role to being a dark-skinned Black woman as the it was ultimately given to Rochelle Humes, former singer (S Club Juniors, The Saturdays) television and radio presenter and the wife of former JLS member and presenter Marvin Humes.
Here's my thing: I empathise with Candice. I really do. However, there is a detail that is not being covered here. Candice is represented by an all-white team in the decision making roles in her career (as far as I am aware). Now, there is nothing wrong with that. And as discussed with others online, this is a strategic move as there are few people of colour in positions of power to open doors, a failing of the industry long documented. However, when taking these decisions you then compromise on having someone in your camp that understands some of the unspoken challenges and biases you as an artist faces when sat in front of decision-makers who don't look like you.
Whilst I empathise with influencers like Candice and others like the Slumflower who now finds herself in a public storm following very public disagreements with her management and publishing teams who too are all white, I have to say that this is where artists need to be more accountable when it comes to their business.
Having a diverse team doesn't just extend to large scale corporates. It extends to artists – and in this case influencers – too. Your career is your brand and your brand is your business. This is why I only work with artists who understand that they are building a business and a legacy and that they are the Chief Operating Officer of their brand with me as a Business Manager helping them to see things that they might miss.
Musicians like Stromzy and Skepta and the actors John Boyega, Letitia Wright and Damson Idris have managers/representatives that look like them and rarely seem to be in scenarios that cause them to have to share their hurt online. Why? Because they remain in control and have people around them who are aware of the nuances that come with being a Black person in the entertainment industry. In life generally to be honest.
There is a whole other discussion that needs to take place around the fact that Black British artists need to insist that credible Black publications, companies and institutions get access to them when they are on tour in this country but that's not my primary point. I use them to illustrate the fact that this collaborative working in the Black community can be done successfully.
Some things that aren't clear in this story includes was Candice actually contracted for this role? As an influencer and a responsible one, Candice seems to have been mindful of the words that she uses and says she had "thought" she would be presenting the show. However, what seems to be at play here isn't that Candice was dropped but a potential lack of clarity when it comes to contracts.
Here is why management is critical: this would have been a desire that good management would have been aware of because of Candice's history and should have been ingrained into a contract. If the production company had difficulty committing from the outset it would be an opportunity to advise Candice to contribute – relationships are important – but to then hold back enough to create a documentary of her own.
There is also an element of being careful of how we use our platforms. Candice's appeal is that she is real. We both grew up in South London and are mothers with a love of books which makes her relatable to me. One of the things people respect about her is her ability to be honest and share. The hurt displayed in her original post where she talks about being overlooked being placed next to an experience that is raw and palpable to a lot of black women has meant that a lot of the community rightly jumped to Candice's defence because that's what we do? However, I believe we have to hold our artists also accountable for their business.
Her team failed to secure the bag and allow her to make an informed decision when contracts could and should have been drawn up before Candice effectively started consulting on the project. OR if she didn't contribute there is joy in the fact that her key work still has the possibility to be delivered by her if her team secure a development team for her.
The fact is Rochelle Hume is a mixed-race woman who does have an element of privilege (but one that comes with its own challenges) who has at least two decades in the game. She has a reach that when it comes to the numbers – which any production company will look at – there is an undeniable difference.
There are a lot of sensitivities around the topic of Black women and pregnancy, colourism and it's something that does need to be addressed. However, from my perspective, there are questions that need to be asked from a business standpoint and artists need to be more accountable.
As I finish this article I hear that Candice has issued a statement correcting some assumptions that essentially answer the questions I have been asking all day and invoking another lesson for artists: be aware of the power of your platform. A lot of bridges have been singed today by an emotional post that invoked the wrath of a group of women already hurt by the injustices of a very biased system.
A quick Instagram post turned into a storm that will challenge Candice's relationship with the press, production companies and, more importantly, her audience. In a way, she (I hope inadvertently) weaponised the very women who support her against the industry and others without being 100% clear on the circumstances around her scenario. A sad state of affairs.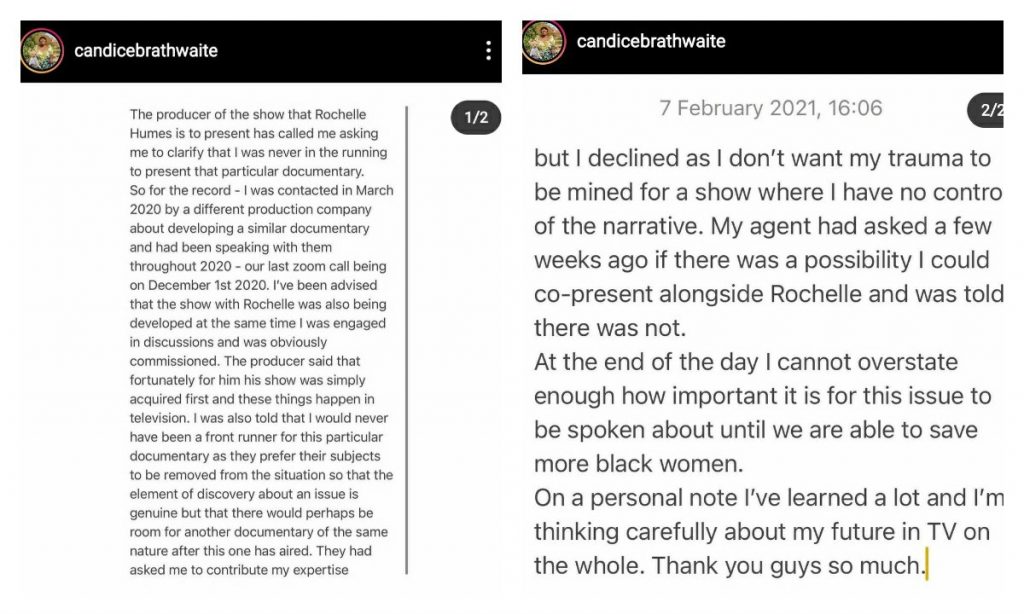 I implore artists to take heed of some of the lessons learnt.
Want to hear more from us? Sign up to Spectacle, a behind-the-scenes look at TGRG.